See What Exhibitors Say About PRESENT Conferences
If you wish to exhibit or be a sponsor at the Desert Foot Conference, please contact Michael Shore or Darron Daly. Please see Contact Info below.
Desert Foot averages 400 Attendees:
45 states are represented
100+ VA and Indian Health Facilities
The Attendees are comprised of:
Podiatrists (68%)
MDs/DOs (10%)
RNs/PTs/Residents (22%)
65% are in private practice
35% Hospital/VA systems and outpatient clinic-based
Desert Foot 2019 Photo Album
See the Conference Photos on Our Facebook Page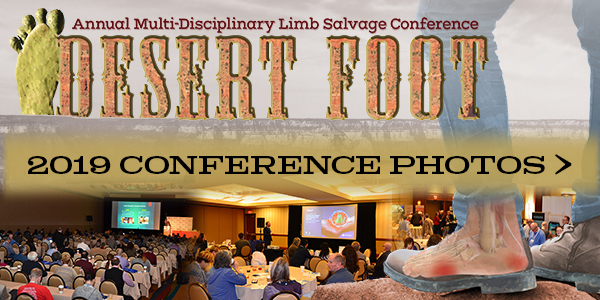 Individual Symposia /
Workshops /
Lecture /
Table-Top Opportunities
Symposium Morning or Afternoon
$30,000
Rotating Workshop
$25,000
CECH/CME/CE Approved Lecture with Speaker(s)
$20,000
Fifteen (15) Minute Case Study Presentation - Clinical Tips and Pearls
$10,000
Conference Bag Insert
$2,500
Half-Page Ad in Official Conference Brochure
$2,000
Full-Page Ad in Official Conference Brochure
$3,500
Cancellation Policy: Refunds will not be provided for cancellations within nine (9) months of the Conference start date.
Sponsorship Packages
GRAND SPONSOR $100,000
Exhibit Table-Top
Two (2) Rotating Workshops
Two (2) Symposia on Main Agenda
One (1) Promotional Symposium on Main Agenda of Desert Foot Half Day Program
Two (2) 15-Minute Case Study Presentations – Clinical Tips and Pearls
Twenty (20) Complementary Employee Full Conference Registrations
Three (3) Meter Boards
Three (3) Marketing Eblasts to Conference Registrants
Full-Page Ad in Official Conference Brochure
Grand Sponsorship Recognition as the Sole Grand Sponsor and Included in All Conference Marketing
DIAMOND SPONSOR $80,000
Exhibit Table-Top
One (1) Rotating Workshop
One (1) Symposium
One (1) CECH/CME/CE Approved Lecture with Speaker(s)
One (1) 15-Minute Case Study Presentation – Clinical Tips and Pearls
Fifteen (15) Employee Full Conference Registrations
Two (2) Meter Boards
Two (2) Marketing Eblasts to Conference Registrants
Half-Page Ad in Official Conference Brochure
Diamond Sponsorship Recognition
PLATINUM SPONSOR $60,000
Exhibit Table-Top
One (1) Rotating Workshop
One (1) Symposium
One (1) 15-Minute Case Study Presentation – Clinical Tips and Pearls
Twelve (12) Employee Full Conference Registrations
One (1) Meter Board
Half-Page Ad in Official Conference Brochure
One (1) Marketing Eblast to Conference Registrants
Platinum Sponsorship Recognition
GOLD SPONSOR $30,000
Exhibit Booth
One (1) Rotating Workshop


or

One (1) Symposium
One (1) CECH/CME/CE Approved Lecture with Speaker(s)
Eight (8) Employee Full Conference Registrations
One (1) Marketing Eblast to Conference Registrants
Half-Page Ad in Official Conference Brochure
Gold Sponsorship Recognition
SILVER SPONSOR $20,000
Exhibit Table-Top
One (1) CECH/CME/CE Approved Lecture with Speaker(s)
Six (6) Employee Full Conference Registrations
One (1) Marketing Eblast to Conference Registrants
Half-Page Ad in Official Conference Brochure
Silver Sponsorship Recognition
BRONZE SPONSOR $10,000
Exhibit Table-Top
One (1) 15-Minute Case Study Presentation – Clinical Tips and Pearls
Four (4) Employee Full Conference Registrations
One (1) Marketing Eblast to Conference Registrants
Half-Page Ad in Official Conference Brochure
Bronze Sponsorship Recognition
Exhibitor Hours
Wednesday, December 1
---
Set – up
2:00 – 6:00 PM
Wednesday, December 1
---
Set – up
5:00 – 6:00 AM
Exhibit Hours
6:00 – 7:00 AM
9:15 – 9:45 AM
12:45 – 1:45 PM
5:25 – 6:00 PM
7:30 – 8:30 PM
Thursday, December 2
---
Exhibit Hours
6:00 – 7:00 AM
9:30 – 10:00 AM
1:00 – 2:00 PM
5:20 – 5:50 PM
Friday, December 3
---
Exhibit Hours
6:00 – 7:00 AM
10:00 – 10:30 AM
1:30 – 2:30 PM
5:00 – 5:30 PM
Saturday, December 4
---
Exhibit Hours
6:00 – 6:55 AM
9:30 – 10:00 AM
12:00 – 12:30 PM
Conference ends at 4:00 PM
Dismantle
12:30 – 1:30 PM
*Subject to change
Contact Info
Conference Information Contact
Daryl Ehrentreu, CMP, HMCC
Senior Director, Meetings Management
Office: (561) 998-7556
Mobile: (201) 723-1066
meetings@presentelearning.com