Abstract Poster Competition
Winners of the 2018 Desert Foot
Poster Competition
Non-Resident Category
First Place
Paul Savage, Ph D – Evaluation of Ceragenin CSA-44 for Acceleration of Healing of Chronic Wounds Associated with Type 2 Diabetes
Follow this Link to view the winning abstract
Second Place
Robert Frykberg, DPM, MPH – Healing Chronic Diabetic Foot Ulcers (DFU) with Cyclical Pressurized Topical Wound Oxygen Therapy: Results of the TWO2 Multi-National, Multi-Center, Randomized, Double Blinded, Placebo Controlled Trial

Third Place
Kevin Pham, DPM – Utilizing WIfI Classification System For Patients With Threatened Lower Limbs
Follow this Link to view the winning abstract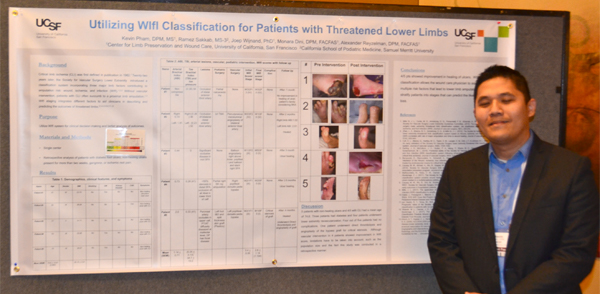 Paul Savage, Ph D with his winning poster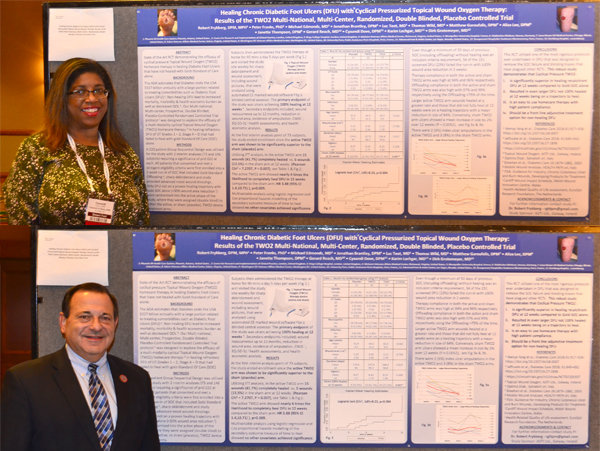 Cyaandi Dove, DPM (top) and Matthew Garoufalis DPM, CWS with their second place poster.
Resident Category
First Prize
Jaminelli Banks, DPM – Use of Remote Temperature Monitoring to Identify Pre-Ulcerative Lesions for DFU Prevention and Early Detection: A Case Series of Four Patients

Second Prize
Jisun Lee, DPM - Six month Freedom from Amputation Rates and Quality of Life Following Tibial and Pedal Endovascular Revascularization for Critical Limb Ischemia
Follow this Link to view the winning abstract
Third Prize
Brandon Brooks, DPM – Use of Pulsed Electromagnetic Field Therapy (PEMF) as a Treatment for Peripheral Nerve Pain: A Case Series
Follow this Link to view the winning abstract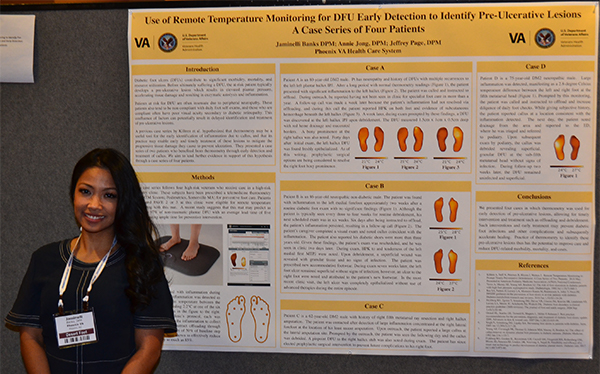 Jaminelli Banks, DPM with her winning poster.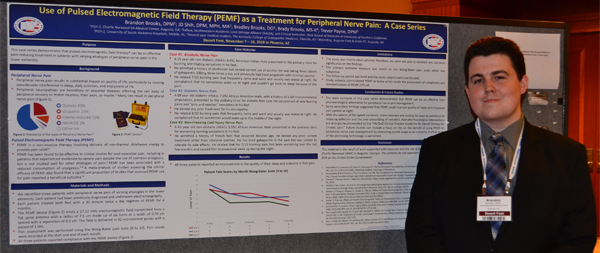 Brandon Brooks, DPM with his third place poster.
2018 Abstract/Poster Submissions
Awards
Recognition Award Certificates for 1st, 2nd and 3rd Place will be received during the award ceremony in main lecture hall.
Requirements and Procedures
Original research, case study, retrospective or meta-analysis are all acceptable.
Important: Please review the following before you complete and submit your abstract. All submissions are limited to a total of no more than 300 words (sections 4-8 below) and must include:
Title: Keep your title as concise as possible. Capitalize first letter of each major word.
Topic Category: See below for Suitable Topics.
List of Authors: List Lead author first, all other contributors should be included in order of their degree of contribution to the finished work. Include degrees and affiliations for each.
Aims/Objectives/Goal/Purpose: What does the research intend to demonstrate?
Materials and Methods: What methods and procedures were used to document and analyze your findings?
Results: Discuss the results and analysis of the study.
Conclusions: Authors conclusions and opinions are presented in this section.
The Lead Author for each abstract submission must be registered and must attend Desert Foot 2018.
Suitable Topics
Limb salvage
Neurological and vascular disease affecting the lower extremity
Wound care issues
Evidence-based standards of wound care
Cost-effective foot care
Preventative foot care for at risk populations
Any other topic relating to primary treatment or treatment of complications pertaining to at risk wound care patients.
Timeline
Abstract submissions are Due Monday, October 29th, 2018 at Midnight
You can submit multiple abstracts
Abstracts will be judged by the Abstract Committee within a few days of submission and either Accepted, Rejected with Comments or Rejected
Judgment notices will be sent to participants via email immediately upon judgment
If rejected, abstracts may be revised and re-submitted
Once acceptance is received, participants should immediately Register for Desert Foot 2018
Poster files should then be created and uploaded by Midnight, Wednesday, October 24, two weeks before the start of the conference
PLEASE DO NOT UPLOAD OR SEND POSTERS UNTIL YOU HAVE BEEN NOTIFIED OF ACCEPTANCE VIA EMAIL
Winners will be announced in the Lecture Hall before the PM Break on Friday, November 9. *You must be present to win
Judgement
All Lead Author Poster Presenters must be registered for the meeting and must attend. If you have not already done so, please register. Abstracts will be peer-reviewed by a committee chosen by the Desert Foot Chairmen.
This year's committee includes:
Charles Andersen, MD - Chairman
Donald Cutris, DPM
Suhad Hadi, DPM
Arthur Tallis, DPM
Evaluation Criteria
Scientific Method: Are the methods appropriate for the type of study? Are the statistics or comparisons meaningful to the outcomes?
Perceived Importance: Do the results or presentation have any meaning to everyday practice? Do the results suggest a change in practice policies? Are the results preliminary requiring further investigation?
Innovation: Is the study new or different? Does it offer a different or new perspective?
Evidence Level: What level of evidence does this study/presentation represent? Is it high enough to consider using in patient care? Does it require further investigation before using in patient care?
Poster Preparations
Print posters to a maximum size of 4 feet by 8 feet, which is the outside dimensions of the standard 4' x 8' poster boards. Push pins will be provided.
Uploading Poster PDF Files
Please submit PDF files of your posters by Midnight, Wednesday, October 24, two weeks prior to the start of the conference, so that we can publish them on the Desert Foot website for attendees. Posters posted online on the Desert Foot website get indexed by Google and receive widespread viewership.
The Poster PDF submission deadline is Midnight, Monday, November 5th. Poster PDFs received after this deadline may not be posted online.
Onsite Information
Please check in at the Desert Foot desk upon arrival. They will help you with any questions and direct you to where to hang your posters. The posters can be no larger than 4' x 8', which is the outside dimensions of the Poster Board frames. All Abstracts and/or Posters will technically become the property of PRESENT-e-Learning Systems. You can take your poster home with you, if you wish.
Good Luck!